What the LDF government achieved in the first year
The Left Democratic Front came to power in 2016, riding high on people's expectations. The government claims many achievements in various sectors. Let's hear them...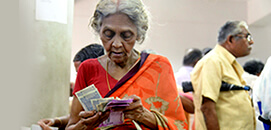 Finance
Social welfare gets pride of place, infrastructure on the move
The Left Democratic Front bets big on social welfare and conventional industries. Welfare pensions have been increased from Rs 600 to Rs 1,100. Pensioners received their dues at their doorsteps. More than Rs 5,000 crore was disbursed as pensions in the first year of the government. Measures have been taken for flawless information flow regarding pensions. A special investment vehicle called Kerala Infrastructure Investment Fund Board (KIIFB) was formed for infrastructure development. An efficient mechanism has been put in place to earn global recognition and credibility for the board. The KIIFB Act has been amended and the board restructured. Guidelines for infrastructure development have been formed. A stimulus package of Rs 20,000 crore has been announced. It includes construction of highways, bridges, buildings, industrial parks and welfare schemes. Projects worth Rs 12,000 crore have been approved. As much as Rs 8,000 crore have been earmarked for land acquisition. Projects worth Rs 2,800 crore would soon be approved. Approved works of Rs 4,000 crore are in full swing. Infrastructure projects worth Rs 11,000 crore are about to take off once they receive government approval. The very first budget of the LDF government declared infrastructure development projects of Rs 12,000 crore and land acquisition for Rs 8,000 crore. Additional projects worth Rs 25,000 crore were announced in the 2017-18 budget.

The government has fast-tracked the process to implement the announcements. Arrangements are in place in the KIIFB to release funds as and when the bills are submitted after completion of works. The government intends to complete the mega works in its tenure. This will be a quantum jump in Kerala's infrastructure development. A plan is in place to achieve the targeted growth in Keralaís own revenue. The treasury has been modernized with core banking and coordinated fiscal management system. The state treasury could offer a helping hand to the people even during the tough times of demonetization. The state's income from lotteries increased 16-17 percent. As many as 18 new lottery offices have been opened. The government has been taking extra care to protect the state lottery, including modern security features on lottery tickets. At the same time, gamblers and fake lottery producers have been targeted. A special investigation team is looking for any trouble makers. The state's own tax revenue increased even during the demonetization drive.

The state has taken actions to make the Goods and Services Act beneficial to the state.
Total core banking has been introduced in the Kerala State Financial Enterprise. Chit funds for the expatriates are in the works, with a target of raising Rs 12,000 crore for infrastructure development in the state. The KSFE has a professional board now. The coir industry is undergoing a total revamp. The government plans to go for total modernization by protecting conventional jobs. The state offers money to procure traditional coir products. The procurement of coir and coir products grew 15-20 percent.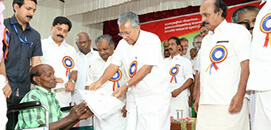 Revenue
Claiming government land back, saving wetlands
Encroachment of government land has been extensive in Kerala during the tenure of the previous United Democratic Front government. As soon as the Left Democratic Front government came to power, strict measures were taken to prevent encroachment and to reclaim the land encroached during the term of the previous government. A high-level committee has been formed to examine the instances of individuals taking over government land which was leased to them and to take it back if necessary. The committee includes the revenue principal secretary, land revenue commissioner and joint commissioner. Squads have been formed at the district and taluk levels under the district collector to keep a check on land encroachment. The law department is working on a draft of the Land Grabbing (Prohibition) Bill to stop encroachment of government land and the forceful occupation of individuals' land by organized gangs.

Saving paddy fields
The government was able to control the unchecked reclamation of paddy land. As much as 37 acres of paddy fields have been restored. Squads have been put in place to control unauthorized reclamation of land at the district and taluk levels. About 300 cases of illegal reclamation had been dealt with strict legal action. The Revenue Department expects to put an end to the reclamation of paddy fields with the support of the party, the alliance and the people. The river that had been reclaimed in the name of an airport at Aranmula has been restored to its former self. An order by the previous UDF government to declare the area around the proposed airport as industrial area has been declared void. The government ensured the protection of paddy fields by removing section 3A of the Kerala Conservation of Paddy Land and Wetland Act which had legitimized unauthorized land filling. At the same time, district collectors have been instructed to allow ordinary people to build houses. The department has issued a circular to simply the process that allows people to construct houses on land which was reclaimed before 2008 and excluded from the data bank. The process to publish the data bank under the Kerala Conservation of Paddy Land and Wetland Act is on the way. The data bank has been published in 565 panchayats. Details of another 226 panchayats have been sent to the printing press. The data bank is being prepared in 128 panchayats.

Land distribution
Ahead of a plan to distribute land among the poor, land boards have been constituted in all taluks in the state. A special survey process has been put in place to distribute surplus land. Land assignment committees have been formed in 11 districts. An order has been issued for the formation of river management committees in all districts and a higher committee at the state level. As many as 29 special tribunals have been formed to dispose of the applications pending before the land tribunals. A monitoring system has been introduced to decide LT Cases in a time-bound manner. Land Tribunal officials were given special training under the aegis of the State Land Tribunal to make their work more effective. Efforts are on to grant land title deeds to everyone who deserves it. Proceedings have been fast-tracked to grant land rights to those who had possessed forest land before 1.1.1977 and those whose petitions had been approved by the central government and the Supreme Court after joint inspection by the state revenue and forest departments. About 10,000 farmers in Idukki district will be distributed land title deeds before April 30. This government has granted 9,371 title deeds across the state so far. Another 10,000 title deeds will be distributed in Kasaragod and Idukki districts on May 13 and 21.

Revenue offices and services
Village offices in Kerala will soon be turned people-friendly offices with public participation. The facility to avail of the services online will be made total soon. Revenue recovery proceedings have also been taken online. District collectors have been given the sanction to give more time in revenue recovery proceedings of up to Rs 2 lakh and to give an option to repay dues in installments. The digitization of land records has been completed in 1,116 villages. The completely digitized integrated land registry will be finalized within a month in Manakkad village, the pilot project. All certificates from the Revenue Department will be made available online. The validity of the caste certificate for educational purposes has been increased to three years. Income certificate will be valid for a year and the nativity certificate will be valid for life. This system will be in practice from the next academic year. A special team has started a resurvey to fix fair value for the land based on complaints. Resurvey-related activities have been restarted after a gap of four years. The resurvey will be completed in Idukki and Kasaragod districts within six months. Activities in the other districts will also be completed in a time-bound manner. Special teams are leading the comprehensive survey and the digitization of land records with the help of sophisticated ETS-GPS technology A land literacy campaign is underway to create awareness among the public about laws related to land related procedures. People in 551 villages where the land resurvey has been completed can view the sketch of their land free of cost on the web portal of the Survey Department and take a printout of it by remitting fee online.

Drought and disaster management
Kerala is going through the most severe drought in a century. The government started in October to put in place measures to deal with the unprecedented drought caused by a shortfall of rain and climate change. Drinking water is distributed through kiosks and tankers. Special arrangements have been made in every district under the supervision of a minister to regulate water usage and to protect the sources of water and to ensure the distribution of drinking water. The government has taken over water sources including granite quarries in all districts, including four in Thiruvananthapuram, to store and distribute potable water. The government made sure that the distribution of drinking water is transparent and efficient by monitoring the tanker movement through GPS. The government modernized and equipped the State Disaster Management Authority to deal with natural calamities and other disasters.

Zero-tolerance to corruption
The Revenue Department has adopted a zero-tolerance approach towards corruption. As many as 54 officers have been suspended from service for corruption allegations and 130 officials subjected to legal proceedings. The inspection wings in the district collectors have been empowered on a par with the Vigilance and Anti-Corruption Bureau and made into inspection and vigilance units under a senior superintendent.

New revenue divisions, taluks
The Revenue Department had recommended the formation of six more revenue divisions but only three divisions were approved in the budget speech. Subsequent requests resulted in the formation of three more divisions. It was also decided to form two more taluks.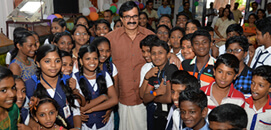 Education
Schools get a smart makeover
The Left Democratic Front government launched the General Education Protection Mission as part of the Nava Kerala Mission. The government took steps to protect and strengthen the public education sector, including the takeover of four schools marked for closure by their private managements. The previous United Democratic Front government had ordered the closure of these schools including the one at Malaparambu in Kozhikode. The government has taken steps to amend the sections in the Kerala Education Act which empowered district education officers to close down schools. The government also ensured that school text books were distributed among students timely and effectively. Textbooks will be split into three volumes from next academic year to lessen the burden of students. Broadband internet connection was availed to 8,704 lower primary and upper primary schools with the support of the BSNL. The midday meals are now cooked with LPG fuel. All students up to eighth standard have been given school uniforms free of cost. Students up to fifth standard have been distributed handloom uniform from this next academic year. The government has launched a scheme to provide free insurance to school students that guarantees Rs 50,000 as fixed deposit in the name of the student in case the parents dies. Daily wages for cooking midday meals have been raised to between Rs 400 and Rs 475. The government has redeployed more than 4,000 teachers whose vacancies had been cut for want of required number of students. Teachers bank has been legalized. Scientific methods have been adopted for teachers appointment and redeployment. The government has issued an order ahead of amending the Kerala Education Rules to facilitate these reforms. The government has allotted Rs 4 crore for the school arts festival, doing away with the practice of collecting money from students up to eighth standard. The honorarium of pre-primary teachers and nannies has been raised. The SCERT has been asked to study the problems in the pre-primary sector and submit a report to the government. Wages of teachers in alternative schools (MGLC) have been increased. Wages of IEDSS resources teachers have also been raised.

The government also kicked off a project to raise biodiverse gardens in schools to create awareness among students and citizens about biodiversity, environment and agriculture. The government addressed a shortage of teaching and non-teaching staff by elevating 141 RMSA schools on a par with government schools and crating additional vacancies. The government has taken measures to appoint sports, arts and crafts teachers in government upper primary schools. With a view to expand hi-tech learning, IT@School master trainers were allotted to each educational sub district. Seats were increased at all levels from higher secondary to degree courses to allow more students to pursue education. The government addressed a pressing problem in the new or newly upgraded schools when it approved the appointment of all teaching and non-teaching staff appointed in 2015-16. The government also ordered to approve the appointment of staff on daily wages in schools that do not have sufficient students. As much as Rs 70 crore was earmarked for paying daily wages for about 3,000 teachers who had not been paid for want of vacancies in higher secondary schools. The government has taken the necessary steps to ensure that principles of merit and social justice were followed in the engineering education sector. The government could ensure that only those students who have passed the entrance exams were admitted to the management seats in the self-financing engineering colleges, unlike the previous years. Fees in the merit seats in the self-financing colleges were brought down. The admission process was completed on time. Two new post-graduate courses have been approved in the government engineering college in Thiruvananthapuram. Two mechanical branch courses were approved in the government polytechnics in Kasaragod and Cherthala. The government also approved 26 vacancies in the Thiruvananthapuram central polytechnic which lost the recognition by AICTE. All infrastructure has been provided as required by the AICTE to restore the recognition. The government has brought out clear guidelines for approving new colleges and courses in the higher education sector. Orders were issued to start MA Tamil and MCom courses and create associated teaching vacancies in the Munnar Government College. M A Mass Communication and Journalism and MA Economics courses were started in the N M S M Government College at Kalpetta. MA English and MA Development Economics courses were started in the Government College at Mananthawadi. BSc Statistics and MSc Zoology courses were started in the Government Brennan College at Thalassery. MA Economics and BSc Chemistry courses were approved in the Government College at Kattappana. University syndicates have been revamped. Steps were taken to make the conduct of university examinations more efficient and time-bound and to improve the academic relations among universities. The government has taken steps for the early publication of the examination calendar and the timely announcement of exam results with the aid of technology. The public relations department and complaints redressal cell have been made more responsive. A committee including five vice chancellors has been formed to study the possibility of discussing the research results from every university, conducting seminars and starting a research journal. As much as Rs 72.87 crore has been distributed among a university and 15 colleges as infrastructure grant under a central government project. Two newly accredited colleges were assigned Rs 1 crore each while Kerala University's Academic Staff College was given Rs 50 lakh and the Equity Initiative was given Rs 2.5 crore. Kerala became the second state in India to receive Rs 4.61 crore as recognition for utilizing the preparatory grant in a time-bound manner. Plans are afoot to form 10 skill development centers. The Center for Continuing Education (CCEK) has been honored with the excellence award instituted by Emerging Kerala and D C Media for the best training and test preparation institute. The CCEK has signed a Memorandum of Understanding with the Industries Department to start vocational training courses. CCEK's new center started at Kalliassery in Kannur on May 17.

The plans for the next one year

The government has put in place a process to convert 45,000 classrooms into hi-tech classrooms in the high school and higher secondary sectors. As many as 1,250 classrooms in 125 schools have been turned into hi-tech classrooms. Plans are afoot to make at least a school in each legislative assembly constituency a center of excellence. The government will shell out Rs 3 crore each to 229 government schools to improve infrastructure. A scheme will be implemented to grant special status to heritage schools that have been around for 200 years. The Sradha program will focus on the students who under perform due to various social, economic and emotional issues. Rs 3 crore has been earmarked for the project for 2017-18. The State Institute for Education Technology will be elevated as a center for the formation of curriculu-based digital content. The government fund for the organizing of the school arts festival has been increased from Rs 4 crore to Rs 6 crore. A process has been set in motion to modernize school labs and libraries. The government has taken measures to start sports, arts and cultural parks to make schools the nerve centers of physiological, psychological and cultural development by providing the required infrastructure. A project to start an autism park to provide physically and mentally challenged children a space to develop. A project to start talent labs to identify and nurture latent talents in students. The Ideal Lab project to set up labs with global standards in schools. A special scheme to make universities centers of excellence. The Cochin University of Science and Technology to get Rs 240 crore in the first phase. Engineering colleges will have product development centers and rural technology development center. Kairali research awards for students who prove themselves in research activities in an attempt to encourage continuing research. The Malayalam Language (Compulsory Language) Bill 2017 to make Malayalam a compulsory subject up to 10th standard.
Excise
Excise Departments creates record in enforcement
Zero
The Excise Department has created a record of sorts in terms of enforcement activities in the last year. The cases registered by the department related to abkari affairs rose 53 percent. Registered NDPS cases increased 123 percent while the COPTA cases increased 55 percent. This is an all-time record. Seven excise check posts have been selected as part of a modernization drive. They will be fitted with container modules. The administrative approval has been granted and the work order given to the Nirmithi Kendra. Container modules have been installed at five check posts. The remaining modules are in the works. As many as 16 of the 22 services in the Excise Department that comes under the Kerala State Right to Service Act have been offered completely online. As part of the intensification of enforcement, the department bought 25 vehicles to replace vehicles which were older than 10 years. To facilitate the computerization of Excise Department offices and the implementation of the e-office system, 63 computers were bought and distributed to offices after including Rs 31 lakh in the plan fund. As part of a program to elevate the Excise Academy in Thrissur to national standards, 17 projects including a smart class room and a public address system have been finished. As many as 200 .303 rifles were bought for training purpose. As much as Rs 50 crore was earmarked in a special fund in the budget to install excise towers in Kottayam, Paladdad, Thrissur and Wayanad districts. The construction of the tower has already started in Kottayam. Work on a new excise office building has started at Thankamani. A dormitory has been constructed for officers in the excise headquarters. As many as 2,542 clubs have been formed across the schools and colleges in the state to create awareness among students about the ill effects of alcohol and other intoxicating substances. As many as 1,385 complaint boxes have been installed for the public to raise complaints. An order has been issued to form de-addiction centers in all district headquarters in association with the Health Department. Efforts are on to build a national-level de-addiction with rehabilitation facilities under the Excise Department.

Future plans
As much as Rs 200 lakh has been allotted to implement a wireless system in the Excise Department. As much as Rs 38.35 lakh has been allotted for the computerization and the procurement of modern equipment for enforcement, two-wheelers, signboards and solar lead high-mast lamp as part of modernization. As much as Rs 86.15 lakh has been allotted for the implementation e-office system in divisional offices and the computerization of range offices. As much as Rs 152 lakh has been allotted for creating facilities for women civil excise officers. As much as Rs 48.50 has been allotted for the procurement of two-wheelers for the women patrolling squads. As many as 30 foreign liquor retail outlets have been elevated as self-help supermarkets to regulate buyers' crowd and to ensure better facilities for the consumers. Following a Supreme Court order to shift all liquor outlets within 500 meters of national and state highways, 54 outlets of the Kerala State Beverages Corporation were shifted. Another 125 outlets are about to be shifted. These outlets will be shifted to more spacious locations. At least 70 of these outlets will be elevated to the standards of self-help supermarkets. Apart from that, 10 outlets will be selected to be upgraded as model self-help outlets with six or more counters. The KSBC has started working on a plan to modernize all outlets to do away with the crowd and to ensure better services to the consumers. The KSBC will soon invite tenders to introduce total computerization in all retail outlets. All outlets will display a price list of all brands. The KSBC has asked the state government for approval to let customers pay for liquor using debit/credit cards.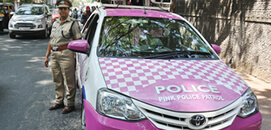 Home
Policing gets a modernity push
1. Law and order on the mend
The milestones in the Home department since Pinarayi Vijayan was sworn in the chief minister of Kerala. The Left Democratic Front brought in measures to strengthen law and order as soon as it came to office in May 2016. Strong measures were adopted to make investigation more scientific and to prevent third-degree torture and to keep corruption at bay. High-level meetings and video conferences were convened in the presence of the chief minister. The police force underwent an overhaul in the last one year. The chief minister attended meetings in every police range and issued orders to make crime investigation and the maintenance of law and order more effective. Special squads were formed across the state to suppress goons and other criminals. A special drive led by district superintendents of police was organized between February 19 and 25 to target goons, anti-social elements and people accused of serious offenses. As many as 8,339 people were arrested during the period. Cases were registered against 1,063 persons under section 107 of the CrPC. Four persons were arrested under section 109 of the CrPC and 59 people under section 110 of the CrPC. The state is free of serious challenges to law and order.

2. Advances in crime investigation
The police force was also able to advance in crime investigation by proving several sensational cases using scientific methods. A special investigation team was formed to probe the murder of Jisha. The team used scientific methods to nab the accused. A charge-sheet has been filed. The cyber police nabbed a group of online scamsters from Delhi for fraud committed in Kerala. The police arrested the persons who robbed a jeweler's employee of gold worth Rs 93 lakh at Kuriachira at Nedupuzha in July. The accused included a Maharashtra native. The police arrested the suspects in a tough case in which one Mariadas was killed in Kovalam. The suspects were arrested from Tamil Nadu within a week of the murder and the loot was recovered. Police arrested the killer of a woman who went missing from Chithali near Palakkad. The accused was nabbed two weeks after he killed Preethi near Pollachi after robbing her of her gold ornaments. Arrested a man who took a woman from Thrissur east to Ramanathapuram in Tamil Nadu and poisoned her. Arrested a man who killed a pregnant woman named Aswathi and dumped her body in a rubber estate near Ettumanoor in Kottayam. He was nabbed within five days of the murder. A man was arrested in Kochi for killing his employee and hacking the body into pieces before dumping it in a well. The police took stern measures to prevent terrorism-related activities. Two persons have been arrested from Mumbai in connection with recruitment to the Islamic State terror group. Further investigation followed. The Kerala Police could also prove scientifically several hi-tech ATM robberies. A Romanian national was arrested from Mumbai after he led a gang which looted ATMs by installing a camera and a magnetic data receiver inside an SBI ATM in Thiruvananthapuram. Another accused was nabbed from Kenya by the Interpol on a request by the Kerala police. A man in Thiruvananthapuram was held within three days of the murder of his parents and two others. The killers of a madrasa teacher were nabbed in Kasaragod. An Uttar Pradesh native was held for the thefts at the Union Bank ATM at Thrikkakkara and a Syndicate Bank ATM at Kambivelikkakam. He was also found to have murdered an associate from Uttar Pradesh. The police could bring to justice all the suspects in all cases of harassment of women, including the recent attack on an actress at Angamaly.

3. Strong measures to ensure women's safety
The government had women's safety in mind whenever it introduced changes in the police force. The government introduced Pink Patrol in Thiruvananthapuram, Kollam, Ernakulam, Thrissur, Kozhikode and Kannur towns to ensure women's safety. Thiruvananthapuram also gets a Pink beat. The new wings will complement the works of the local police patrol, highway patrol and shadow police teams. The pink patrol is an all-woman crew including the driver. The patrol vehicles employ software that can track a distress call using GPS and GIS. Women can call 1515 for help and for information. A pink control room that functions under the respective district police chief will pass on the distress calls to the Pink Patrol vehicles. The vehicles are equipped with facilities to deal with any emergency situation. The pink beat is Kerala government's plan to ensure the safety of women and children in public places. The project is being implemented in other districts as well. The pink patrol team will monitor public places as well as schools, colleges, offices, ladies hostels and places of worship. The crew will support the officers on pink beat at various points. The officers will do anything possible to keep a tab on stalkers and drug peddlers. Women's help desks have been formed in all police stations for women to walk in confidently with any complaints. Every district has a 24/7 women's helpline - 1091 - and another number - 181 - which the Social Justice Department runs with police and other agencies, apart from the pink patrol number. A state-level women's cell under a superintendent of police and district-level women's cells under women circle inspectors are also functioning. The government is also launching a program in which a woman police officer is expected to visit a panchayat every week to collect complaints of atrocities against women. The government is organizing self-defense classes for women. The Kerala police have put in place a program to equip women to sense any potential threat and to give them the training to overcome such situations. Training centers have been put up in every district to boost the confidence of women and sense of security. The program is being expanded to more local levels by the Jana Maithri police with participation from Kudumbasree, residents' associations, colleges and voluntary associations. More than a lakh women have been trained under the scheme this year. Three mobile counseling centers have been started for women. Safe modes of transports such as She Taxi, She Auto and Pink Auto are available in all districts, especially in cities. Student police cadet program and Jana Maithri programs are also used to ensure women's safety.

4. Women in charge
Women sub inspectors have been appointed as station house officers in six police stations ñ Eroor, Thannithode, Thrissur Town West, Varantharappally, Chemmangad and Payyavoor ñ a first in state.

5. Jana Maithri in all police stations
The Jana Maithri program has been expanded from 267 police stations to all police stations in Kerala. Training and other programs to strengthen the project are on the way.

6. New vacancies, units and training
A new battalion has been approved for women cops. As many as 451 vacancies have been created for this. As many as 400 vacancies for drivers have also been created. The police are set to start commando units in each of the seven armed police battalions. As many as 210 vacancies have been created for this. As many as 1,598 trainee officers and 60 sub inspectors have finished their training and joined the force. Circle inspectors will be appointed as station house officers.

7. Modernization gets priority
The government has given administrative approval for Rs 30 crore to modernize the police force in the budget. The modernization projects have been put on the fast track. All police officers have been given CUG SIM. Kerala Police's website and control rooms in small towns have been revamped. The government has put in place an array of measures to make crime investigation and the maintenance of law and order more technology-driven. The Kerala police cyber dome set up in the Technopark Thiruvananthapuram has been made more effective by introducing a system to monitor economic offenses. Specialized training in cyber forensics was imparted to 100 persons after a gap of many years. Personnel who man cyber police stations have been given high-end training. As many as 100 police stations have been transformed into smart police stations. A modern photo archive system was introduced to store police photos. Modern interrogation rooms were set up. Mobile forensic units have been set up in all 19 police districts. Training facilities have been introduced in the Thrissur police academy and the police training college. Novel projects like Khaki Hats have been put in place to prevent cyber crimes and to trace their origins. Public relations officers have been appointed to all police stations to make them more people-friendly.

8. Mobile app
A mobile phone app was launched to help the public avail of the services offered by the police and to communicate with the police.

9. Seven new police stations
Seven new police stations were allotted in Achankovil, Kaypamangalam, Koppam, Thondarnad (Wayanad), Nagaroor (Chirayinkeezhu), Pinarayi (Kannur) and Puthoor (Palakkad). Police stations will soon be set up in these places. Eight more coastal police stations are also in the offing.

10. SOFT for traffic safety
The Save Our Fellow Traveler (SOFT) project aims to provide immediate medical care for accident victims. A 50-member SOFT volunteer group will be formed under each circle inspector in the state. The training of the volunteers is on. The plan also includes more effective monitoring for traffic regulation.

11. Students police
The students police project has been expanded to 48 more schools. An action plan has been put in place to improve the project.

12. Fighting drugs
The police, excise, railway police and the railways have joined forces to prevent the smuggling of narcotics and illegal drugs. The anti-narcotics squad in Kerala has been strengthened under a deputy inspector general. The police have intensified a drive to enforce provisions in the Cigarettes and Other Tobacco Products Act (COPTA) that calls for large pictorial warnings on the cover of tobacco products and to prevent the sale of intoxicating substances to minors.